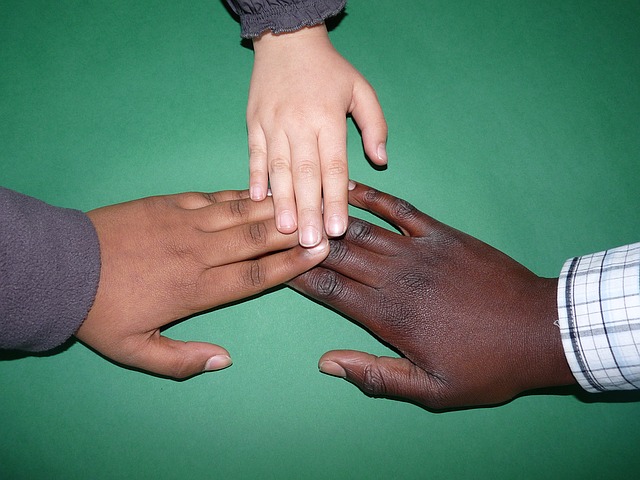 "Integration, whether for Muslims amongst themselves, Muslims living in Non-Muslim Communities, or Non-Muslims living in majority Muslim Communities, is the same- it has one philosophy and abides by the same rule of co-existence, i.e. balanced human harmony that 's bound by mutual respect and responsibility."
---
Headscarf and full-face veil ban in Europe, racial attacks and Anti-Muslim slurs in the States and elsewhere, let alone discrimination against Muslim individuals with signs of Islamic identity blatantly showing such as growing beard, hat, women veil and the like everywhere… Islamophobia is on the rise and nothing shall restrain it but a strong and sincere will to integrate
On a more serious note, integration is equally needed, yet pretty much lacking among Muslim communities as well, division is tearing apart the once united nation of Muslims, dividing it into many factions, and divisions from within divisions, with much stagnation of their common affairs and weakness of the strong establishment of brotherhood.
In my view, integration, whether for Muslims amongst themselves, Muslims living in Non-Muslim Communities, or Non-Muslims living in majority Muslim Communities, is the same- it has one philosophy and abides by the same rule of co-existence, i.e. balanced human harmony that 's bound by mutual respect and responsibility, of course with some specific Sharii differences that are clearly defined in the Quran and Sunnah.
Look at the exemplary kind of integration exploited by Prophet Muhammad, peace and blessings of Allah be upon him, between the Emigrants of Mecca and the Ansar of Medinah.
Said bin Jubair
Ibn Abbas said, "In the verse: And to everyone, We have appointed ' (Muwaliya Mawaliya means one's) heirs (4.33).' (And regarding the verse) 'And those with whom your right hands have made a pledge.' Ibn Abbas said, "When the emigrants came to the Prophet (PBUH) in Medina, the emigrant would inherit the Ansari while the latter's relatives would not inherit him because of the bond of brotherhood which the Prophet (PBUH) established between them (i.e. the emigrants and the Ansar). When the verse: 'And to everyone We have appointed heirs' (4.33) was revealed, it cancelled (the bond (the pledge) of brotherhood regarding inheritance)." Then he said, "The verse: To those also to whom your right hands have pledged, remained valid regarding co-operation and mutual advice, while the matter of inheritance was excluded and it became permissible to assign something in one's testament to the person who had the right of inheriting before. – Noble Hadith found in Sahih Bukhari- Chapter No: 38, Transference of a Debt from One Person to Another (Al-Hawaala) – Hadith no: 494 Also look at the harmony and peace accord that was enacted between Muslims and Non-Muslim inhabitants of Madina summarized in the Historic Covenant of Medinah, tailored by the foremost man of peace, diplomacy and wisdom in the World, Prophet Muhammad, some 1500 years ago.
Can you reckon how we're lagging far behind our once shining fame and glory?
To make a long story short and as a direct statement I wish to communicate here, we need to accept our differences, and make the best use of our commonalities, whether Muslims from amongst ourselves, or Muslims and our non-Muslim brothers.
Recent months witnessed reshuffling of the political maps of many Arab and Muslim nations, which cost people precious bloods, wealth and time. Yet there remains one crucial fact that needs to be remembered- unless we integrate and fill in the gap of our divisions, separations will grow bigger among nations, and from within nations, a simple factor that may lead to the annihilation of communities, Muslim and Non-Muslim alike, let alone the shattering of the global harmony of human power and unity.
This is a call to integrate, to Muslims and Non-Muslims- united we shall live peacefully, divided we shall all suffer, unpredictably.
In this modern age we're living through, 'Peace' doesn't need a hand to install it, but minds and hearts to nurture it to blossom.
Wassalaam, Maha Youssuf The Muslim Tribune Editor maha@muslimtribune.org
Posted on: February 20, 2012